FAQ
Q. Who are we and why use our services?
We are an independent locally run company who specialise in all aspects of house clearances services. We pride ourselves on the highest standard of customer service and satisfaction. We work with local solicitors and estate agents in the area. We appreciate that in time of illness and bereavement, it can be very sensitive and therefore endeavour to be attentive and discrete, offering you a stress free experience.
Q. What services do we offer?
We clear everything including deceased estates, properties for sale, rental properties, garages, cellars, lofts, attics and sheds. Each property is cleared from top to bottom with great care and attention to detail. We can disconnect all appliances and if required we can make the property ready for sale/rental including gardening, painting and carpets. We also have over 35 years experience in the building trade and can meet most customer needs relating to general maintenance jobs. For rental properties we work with various rental agents and supply Inventory Reports.
Q. Are you insured?
We are fully insured with Direct Line Business Public liability Insurance (policy number 200060431).
Q. Do I need to be there?
No, it is not essential that you are at the property. You can leave the keys with your estate agent, solicitor, neighbour or simply post the keys to us (by recorded mail) and we will post them back once the clearance is complete. We can liaise by email or phone and supply you with before and after photographs upon completion of the clearance. Remember, we know how stressful it can be to deal with a property clearance, especially in time of bereavement.
Q. What areas do you cover?
We pride ourselves on being a local company based in Bingley and Burley in Wharfedale, and therefore can give a speedy response to any request. The areas we cover include: Bingley, Shipley, Bradford, Ilkley, Burley in Wharfedale, Keighley, Haworth, Halifax, Silsden, Steeton, Otley, Bramhope, Menston, Guiseley,Yeadon, Horsforth, Leeds and Harrogate.
Q. Can you pick up the keys and return them?
Yes we are happy to pick any keys up return them on completion of any clearance and additional jobs you may require doing.
Q. Are you a registered with the Environment Agency?
Yes, we are fully registered with the Environment Agency. Registration number CBDL32688. We are happy to supply a copy of the certificate on the day of any clearance.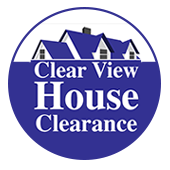 Q. What does a house clearance usually involve?
When you call us, we will arrange to come and clear the property at the time that is most convenient for you. We will arrive at the given time and clear everything that you instruct us to clear. If required we will arrange a skip and any permits that are needed. We supply all materials that maybe required including any cleaning materials as we always leave the property that is being cleared clean and tidy.
q. Do you have a standard rate?
All house clearance requests are different and therefore it can be difficult to give an accurate price over the phone. We are more than happy to meet and give you a FREE no obligatory quote. We can also discuss any additional requirements and special requests. Once you have a price – that's what you pay, there are no hidden costs.
Q. Can you organise a skip and permits if needed?
Yes, we work closely with various local reputable skip hire companies and wHere necessary can organise any permits.
Q. Do you buy any items?
Where possible we offset any costs of any house clearance against any residual value of any items cleared that can be sold or auctioned.
Q. Do you recycle?
We try to recycle as much as we possibly can, every clearance is different so it is not always possible to recycle all of the contents from a particular property.
Q. What days and times do you work?
As owners of our business we know that time is precious to indiviuaduls and therefore we are happy to fit round your timings and days. We are happy to work weekends and nights if required.
Q. Can you clean the property once it has been cleared?
We always leave all properties clean and tidy which is part of our service. If you however require a deep clean please make that known to us a few days prior to commencing work on any clearance.
Q. Do you disconnect all appliances?
Yes (If a standard installation), gas cookers can be disconnected if installed with a 'flexi hose' however, if the gas cooker is fitted with an old welded joint you will need a gas safe engineer to disconnect this prior to the clearance day.
Q. What happens to any personal items, paperwork etc.?
If the paperwork is unwanted we ensure it is disposed of in a way that it does not fall into the wrong hands – this keeps you or your relative safe from identity theft. In certain cases if we find what we consider to be of use and important, we will arrange to have these documents returned to you or your solicitor.
Q. What happens if you find something valuable?
We would liaise with you and inform you of any valuables that we find. Recently at a house clearance we found a solid gold watch which the owner had thought he had lost many years prior – only to find it inside the settee, which was just about to be disposed of. This was returned it to the rightful owner.
q. When can you do the job?
We can do the job within 2 days notice. If it is more convenient for you however, we can schedule it for a later date of your choosing.
q. Can you work with charities?
We work closely with various local charities in the district and where possible drop off any items which we believe can be re-cycled.
q. Can you help with the Probate?
We are more than happy to help in any probate cases. We can compile an Inventory Report which gives an estimated value of any items which are in the house. For valuations of properties we recommend you instruct a RICS registered estate agent.
Q. Can you liaise with my solicitor, estate agent or neighbour?
We are more than happy to work with anybody you appoint. We can liaise directly with your solicitor, estate agent, neigbour or friend.
Q.Do you have any testimonials?
Yes – please visit our testimonials page.
Q. What type of vehicles do you use?
We have two vehicles currently in our fleet with one being a long wheel base VW Crafter which has always accommodated our customer needs.
Q. When do I pay and what payment methods do you offer?
You only pay when the clearance has been completed and you are happy with the work. You can pay by BACS, cheque or cash.